This fragrant, beautiful plant is not found in the wild in our climate; However, because it can be grown successfully, both seedlings and bouquets of dried flowers have been on sale for several years. Those lucky enough to visit southern Europe will be able to enjoy wild lavender growing alongside rosemary, which can be found, for example, in Croatia.
Cultivation
If any of you have had lavender in your garden that didn't do well and after two years completely died out, it doesn't necessarily mean that you didn't tend it properly. You probably came across a biannual variety, which is quite common among the ornamental varieties on sale. Well, at least such a variety is lush and beautiful in the first year, not like our officinalis, which takes 2-3 years to fully develop. At the same time, your plant is also quite suitable for a balcony, because it's mighty pretty in the first year, unlike ours, which takes time to fully grow. Officinalis also has a strong root system, reaching 5-7 metres in adult plants, and so suffocates in even large pots. It can be cultivated in containers for up to 2-3 years, after which it must be transplanted into the ground. It's well worth planting alternating officinalis and ornamental lavender varieties. Before the former has fully grown, you'll be able to enjoy the beauty of the latter. It is also a good idea to plant groundcover type annuals between small officinalis cuttings. These don't take root too deeply and therefore pose no threat to the young lavender. At the same time, they help keep the flower beds neat and tidy. For this purpose we can use, for example, hanging verbena, ground bells and many others.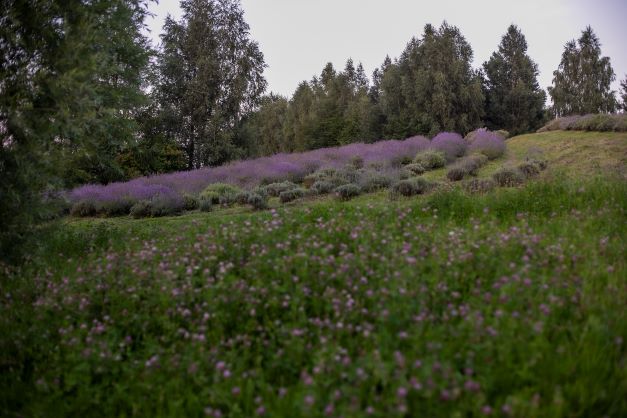 Soil for lavender
Lavender likes well-drained soil, so it tolerates best a mixture of clay, sand and compost. This plant also likes the company of stones, which heat up during the day and give off warmth to the plants at night. It prefers sunny positions, but sheltered from the wind and slightly raised, e.g. on a rockery, small hill, embankment, etc. It won't tolerate flooding, so when it is planted in a depression, it is likely to die. The soil should be slightly alkaline, which can be easily achieved by sprinkling ground egg shells or dolomite or garden lime under the plant. For each plant just a small handful mixed with the topsoil is enough. Generally speaking, lavender uses its essential oils to defend itself against unfavourable weather conditions and attacks by insects and rodents. The more modest the conditions, the more oils are produced. For this reason, over-fed and fertilized lavender doesn't have such a strong fragrance, which is worth remembering if you aim to use it for therapeutic or culinary purposes. Obviously, we refrain from using herbicides or chemical supplements for lavender that is being grown as a spice or medicinal herb. It is best to avoid these types of substances altogether and tend plants by natural means, such as: mulching, fertilizing with compost or composted manure, and avoiding deep ploughing / digging of the garden. One way to a successful garden is to grow only plants that do well in our climate and are not invasive alien species.
Dried lavender – its effects and use
If you want to preserve lavender's scent for a long time, you need to cut the flowers when their buds are mature but still closed. Dry the lavender in an airy, dry place, sheltered from the sun, in the form of bouquets, with the flowers hanging downwards. Immediately after drying, i.e. when the buds easily detached from the stems by rubbing them between your fingers, remove the bouquets and secure them against damp etc. It is best to crumble the flowers from off the twigs and drop them into a glass jar. This is the way we obtain the dried flower of lavender, which is ideal for brewing infusions, baking cakes and cookies, or can be added to preserves, compotes, but also tomato-based sauces. Lavender should be added in moderation, since it has so much flavour and aroma that it can easily dominate a dish and introduce a bitter aftertaste. For example, a moderate amount is half a teaspoon of lavender per litre jar of cherry preserve. The octarine flash of lavender flowers will have the heart of every admirer of T. Pratchett's prose beat faster. In turn, the symbolism of the Middle Ages associated pale lilac lavender with the spiritual qualities of the Madonna. Herbalists have known and described the qualities of lavender since ancient times. The plant came to Poland together with Christian monks, being first grown in their courtyards, and from there being distributed further afield. However, those folk herbal recipes from Poland that I know of make no mention of the lavender flower. It is clear that despite such a long common history, lavender remained a foreign entity. Besides, it is easy to recognize native species in this way: for example, in Morocco, folk recipes speak of the flowers, leaves or even stalks of lavender in herbal remedies. North Africa and the Middle East are the original home of lavender.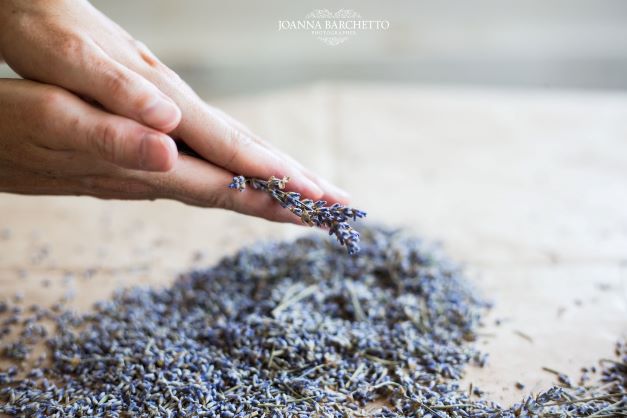 The range of applications for lavender is quite wide. Everyone knows that it repels moths and at the same time lends a pleasant fragrance to wardrobes. It can also be brewed like tea for a good, restful sleep. It helps one fall asleep, regulates the action of the digestive tract, improves digestion, helps with gastritis and is generally beneficial in the case of bacterial diseases or indispositions, such as colds or stomach upsets. It has calming and relaxing properties, but in larger doses – for example during the lavender harvest – it can be stimulating and energizing.